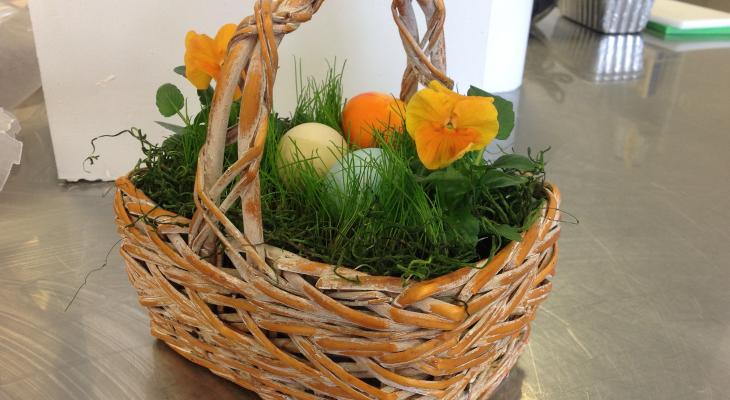 Food science is so fun! Like overmixing batter to see "tunnels" develop because of gluten. Or turning cream into butter or ice cream. And especially dyeing with food and plant pigments. Pigments are the compounds that make up the colors in food and plants.
Egg dyeing with food and plants is an easy alternative to commercial dyes. Pick foods and plants you have around your house and get to dyeing! While these dyes are much more muted or pastel than commercial dyes, they are so interesting to look at. (Who knew purple grape juice would create a stone grey color!?)
Plant-Based Egg Dyeing
The photo shows food and plant pigments we tested and their resulting color. Try other foods or plants to see what colors you can make.
4 cups water
2-4 cups food OR 2-4 Tbsp dry spice OR 1/4 cup herb or plant
1. Combined water and dye material in a large saucepan. 
2. Bring to a boil; reduce to a simmer. 
3. Add desired number of raw eggs – still in shells – to saucepan once dye water reaches a simmer. 
4. Cover and let simmer 15 minutes. Carefully stir mixture or spoon dye liquid over eggs as needed to coat eggs.
5. Remove eggs to clean wire rack or paper towel to dry.
Notes
Eggs will hard-boil in this method. To eat eggs later, refrigerate eggs immediately once they dry and eat within 7 days.
Eggs will dye several shades lighter than the dye water. For a deeper color, let dye water simmer for 15-60 minutes before adding eggs. Adding 1 Tbsp of white vinegar per cup of dye water may also help enhance color. 
Replace water with coffee, tea, or juice for a different dye color.
Today's post was written by Caitlin Mellendorf. Caitlin Mellendorf, MS, RD, is a registered dietitian and Nutrition & Wellness Educator serving DeWitt, Macon, and Piatt Counties. She teaches nutrition- and food-based lessons around heart health, food safety, diabetes, and others. In all classes, she encourages trying new foods, gaining confidence in healthy eating, and getting back into our kitchens.