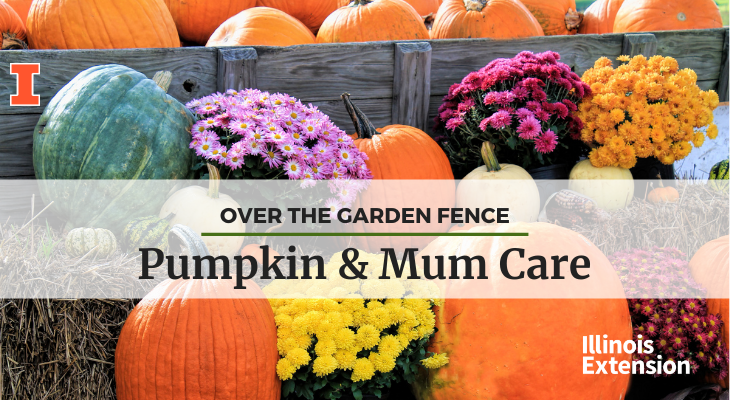 What a great time of year – crisp mornings, warming up to comfortable afternoons, with the opportunity to have that outdoor firepit going after dark.
October also signals the annual trip to a farm or farm stand for fall outdoor decorations including pumpkins, mums, flint corn with or without stalks, and an array of colorful gourds in weird shapes and textures.
Pumpkins
Pumpkins should have at least a couple inches of stem on them and be blemish free. Blemishes can signal something simple as a bruise or the start of a rot. You might be able to "carve away" the bruise, but rots will go deeper and show up again later, limiting the life of your carved pumpkin.
A trick to keeping carved pumpkin cuts from shriveling is to coat them with petroleum jelly.
Chrysanthemums
Mums come in a variety of colors – white, yellow, dark reds, oranges, and more. Select mums that are about 50% open so you will have plenty of bloom show throughout the month. If possible, keep them in a bit of shade as the sun will begin to fade those older flowers.
Potted mums were likely grown using drip irrigation and always had available moisture. You have a large flowering plant with lots of foliage in what is now a small pot. Check for adequate water daily – more often if the mum is in full sun.
Cornstalks
Cornstalks are usually sold by the bundle and look great tied to the mailbox post, porch posts, or other favorite place like around a tree trunk or edge of an arbor. Not much to do after that, but you can expect squirrels to visit looking for the ear of corn.
Gourds
Gourds used for displays can be a combination of edible and decorative only gourds. Any of hard-rind squash, such as acorn, butternut and others, can be included and saved after the decorations come down for table use in November and later. While a soft rind zucchini is not a typical fall decoration, there is a use for that long lost and forgotten zucchini the size of a baseball bat.
Strawbales
If you have used bales of straw in the decorations, that same straw can be used to winter mulch tender or newly planted perennials. Mulching the vegetable root crops like carrots or parsnips for harvesting in the winter is yet another option. If you are considering planting a live holiday tree, straw mulch can be used to prevent the ground from freezing where you are going to dig the planting hole later.
Recyling Materials
Lastly if you feed the squirrels, place those undecorated pumpkins along with the gourds in the back yard and enjoy the antics as they burrow in to get the seeds. Come spring, you will only have orange flat frisbees left. Cornstalks can be added to the compost bin if chopped up. You likely won't have to worry about any ear corn or flint corn, as the squirrels will have snacked on that weeks earlier.
About the author: Richard Hentschel's expertise extends across several subject areas with specialties in lawn care, fruit tree production, woody ornamentals, and home and community gardening. During his 45-year career in horticulture and agriculture, Hentschel became a well-known and respected expert for commercial and homeowner audiences, industry organizations, and media. He retired from University of Illinois Extension in April 2022 with nearly 30 years of service as a Horticulture Specialist and Educator in northern Illinois.