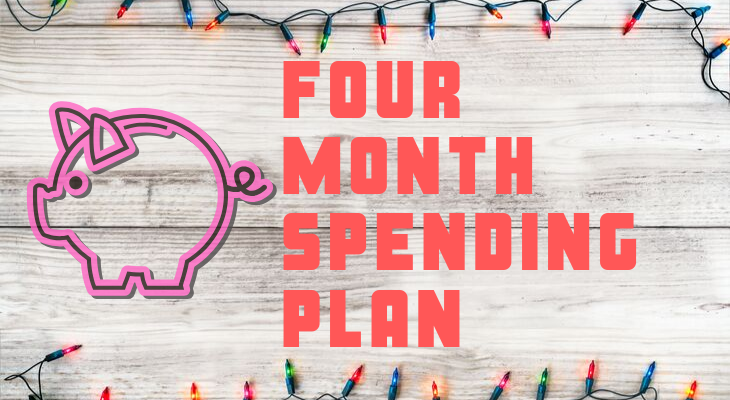 While it's only September, as a financial educator I'm thinking about my holiday budgeting and spending. Why am I thinking about this now? Because lots of other people are too! According to the National Retail Federation 18% of people start their holiday shopping in September or earlier. Here are some tips for 2019 to make your holiday spending a little easier.
MAKE A BUDGET within a BUDGET
Yes, you read that right, make a holiday spending budget within your bigger overarching budget. On average people spend around $1,000 on gifts for family, friends and coworkers, non-gift holiday purchases such as food and decorations as well as small purchases for themselves.
Making a budget within a budget can be tricky. One of the ways to do this is to track the expenses you had last year, either from your credit card statements, bank accounts, or receipts. Another way to track is to use only cash, allocate what you think is acceptable, and once the cash is spent, you're done shopping! Other people create a "holiday bank account" where they put some of their money from their paychecks into the account just for the purpose of saving for the holidays. All of these are ways of utilizing the budget within a budget.
Pay With Cash Instead of Credit
Have you ever noticed how easy it is to spend money now a days? Whether it's online shopping, buying via our smartphone or going into the store, we've made purchasing items really convenient. But have you ever noticed when you have cash -  you hang onto it? Or has there ever been a time when you had your last $20 and you went to pay with that $20 and it was hard to give away? Think about it for a minute. Swiping, inserting our cards or even using our thumb print are easy, and paying in cash can be really painful to our brain.
According to Dr. Ted Klontz, a pioneer in financial psychology, "Research shows we spend approximately 30 percent less when we buy with cash instead of credit cards or gift cards." Next time you're out at the store, consider making your purchases with cash instead of credit, you may notice a difference in your budget.
More Meaningful Gifts
I've always appreciate the gifts that come from the heart. This could be an old photo album restored to its former glory, a recording of a loved one's voice or even a board game the whole family can play together. The time put into a gift can be more meaningful that the gift itself.
While receiving physical gifts are nice, getting to enjoy an experience with a loved one or friend can create memories that will last a lifetime. Instead of purchasing that door buster sweater or hat and glove set, consider planning an experience. You could buy tickets for the Metra for a day in the city, tickets to a sporting event or concert. Take a friend out to dinner or going to the movies and sit in the recliner seats.
If funds are tight, make cute coupons for a dinner date with your spouse, baking cookies with grandma or movie night with your kids. You can do a pot luck with your friends or do a white elephant gift of $5 or less! If you think back on your holiday memories, you can probably think of one or two really great gifts you got, but watching old home movies or playing a board game with your family can mean a lot more. Just remember to keep it in your budget!