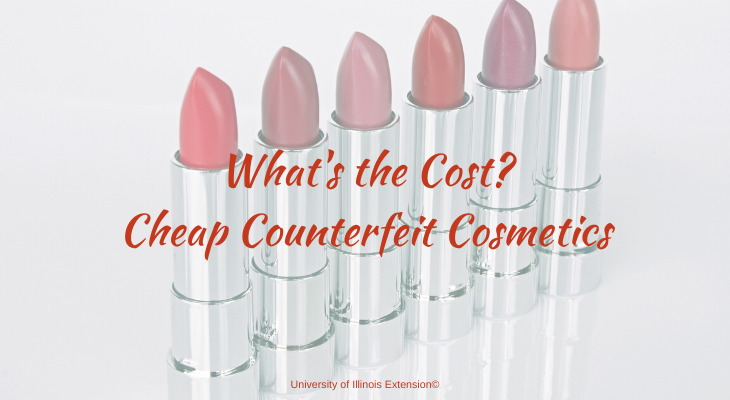 Cosmetics may seem like a great gift for a teen, tween, sister, wife, girlfriend or any woman in your life, but with the rise of counterfeit cosmetics, a low price for a typically high end product may end up hurting a loved one or yourself. The beauty industry was valued at $532 billion dollars in 2017 with an expected market value of $805 billion dollars by 2023.
Counterfeit cosmetics have been around for a while but only in the last few years have counterfeit products started to spin out of control. Big brand names and famous celebrities are putting their names on products and regular everyday consumers are trying just to keep up with the joneses. Did you see that new lip color? Or that new eye shadow pallet? Today, YouTube, Instagram and other social media drives consumers to purchase these hot ticket makeup items, but at what cost?
According to the U.S. Customs and Border Protection (CBP) – "Counterfeiters look to make profits by making fake versions of the hottest products as soon as they are available on the market. Each time you buy a counterfeit good, a legitimate company loses revenue." While the economic impact hurts businesses, fake makeup hurts consumers.
According to a CBS news article, "Some fake makeup has been reported to have found dangerous chemicals including aluminum, lead, arsenic and mercury. Not to mention that often these products are created in unsanitary places, rat feces as well as human urine has been found in counterfeit cosmetics as well." Trust me, no one wants that stuff on their face. Lastly, in some cases, the profits are even used to fund criminal enterprises.
The CPB has four tips to help you make sure the products you buy are legitimate:
Know exactly what you are purchasing and who you are purchasing from
Protect yourself and your family by buying only from reputable sources
If a price for an item seems too good to be true, there is probably a reason. It very likely is a fake
If a website seems suspicious, there is probably a reason for that, too. The operator may be selling counterfeit goods.
Also if you believe you've purchases a counterfeit product – or find a fake – you can report it through the CBP's online portal called E-Allegations. There are a lot of big name retailers online who unknowingly host fake cosmetics on their websites, so if you're looking for the hottest product on the market, make sure you're buying legitimate products. While the price might be within your budget, you could be purchasing a harmful product for yourself or a loved one!