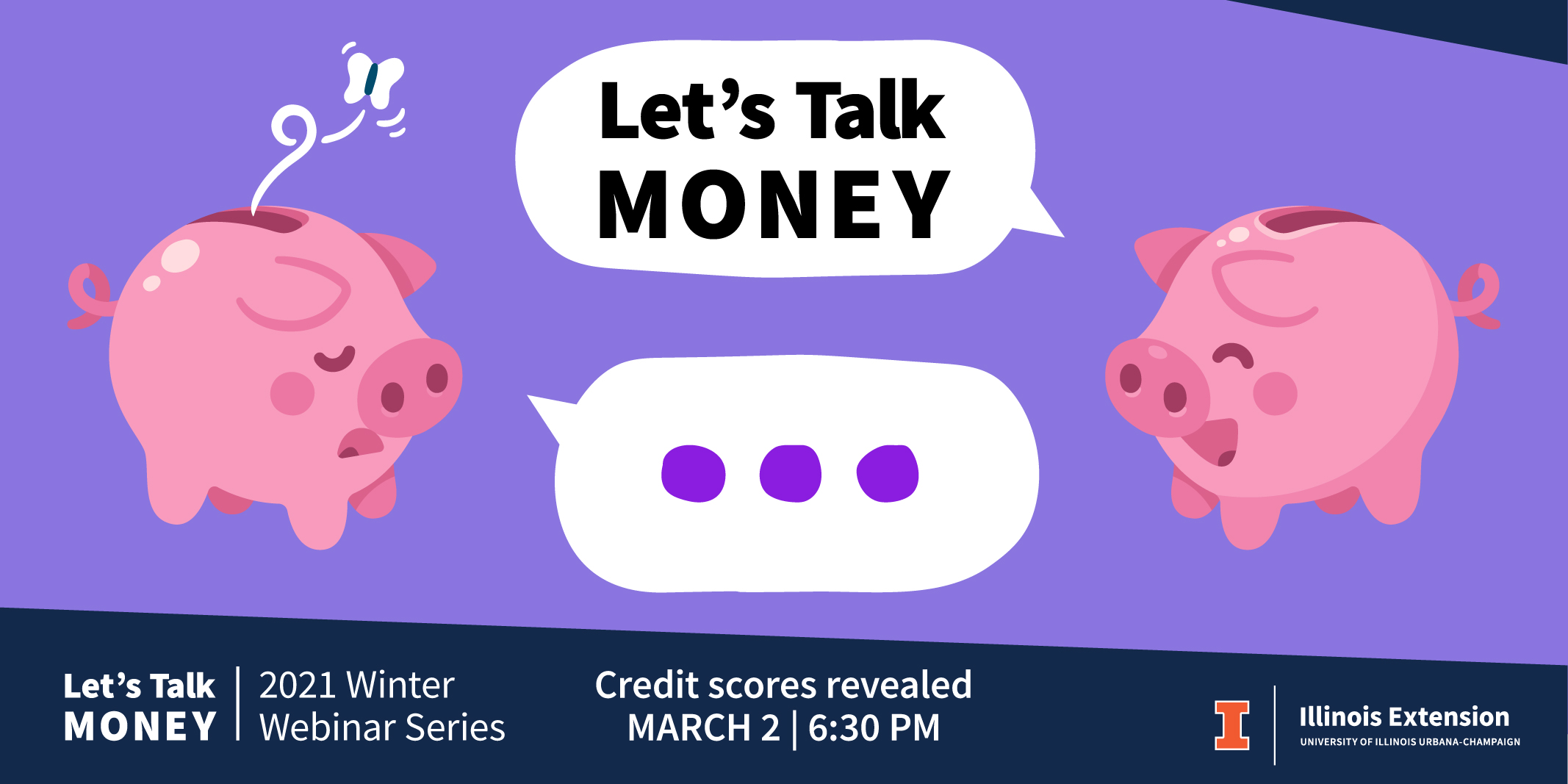 Let's Talk Money Webinar: Credit Scores Revealed
March 2, 2021 | 6:30 PM
Why is credit such a mystery? What's the difference between a credit score, credit report, and credit history? Learn this and more!
Webinar participation is free, but registration is required. One may register for any or all of the sessions held on Tuesday evenings from 6:30 to 7:30 p.m. CT. Details about accessing the webinars will be provided after registration.
Illinois Extension provides equal opportunities in programs and employment. If you need a reasonable accommodation to participate in programming, contact program organizer and presenter, Kathy Sweedler. Early requests are strongly encouraged to allow sufficient time for meeting your needs.
About the series:
Let's Talk Money is a free, online 8-week series to help you talk with family, friends, and financial professionals about money. Many times, lack of financial knowledge and uneasiness of discussing sensitive issues keep people from having crucial conversations to improve the financial health of their family. University of Illinois Extension consumer economics professionals will provide sound financial education which will lead you to make more informed choices during each one-hour webinar. Presenters include Kathy Sweedler, Sasha Grabenstetter, and Camaya Wallace Bechard.
WHO ARE YOU WITH MONEY
February 2, 2021 | 6:30 PM
The first step to taking control of your money is matching your values and goals to your financial decision-making. In this interactive workshop, assess who you are with money, and where you want to be in the future.
HOW MUCH DEBT IS TOO MUCH
February 9, 2021 | 6:30 PM
Deciding when and how much credit to use depends on the financial situation. Discover different scenarios when you might use credit, and learn options for borrowing money from creditors.
FAIR ACCESS TO CREDIT
February 16, 2021 | 6:30 PM
Not all individuals and families have the same access to credit. While consumer laws offer protection from discrimination, this problem still affects many consumers. In this webinar, we will explore some of the challenges of obtaining credit as well as unfair lending practices that create barriers to accessing mainstream credit market.
DEBT REPAYMENT STRATEGIES
February 23, 2021 | 6:30 PM
Repaying debt is challenging in the best of situations, and today's economic situation makes it more difficult. Learn tried and true strategies for prioritizing debt repayment, and paying it down effectively. Explore options for student loan repayment too.
CREDIT SCORES REVEALED
March 2, 2021 | 6:30 PM
Why is credit such a mystery? What's the difference between a credit score, credit report, and credit history? Learn this and more!
SECRETS FOR FINANCIAL SUCCESS
March 9, 2021 | 6:30 PM
Money comes in. Money goes out. Do you have money left for your important goals and wants? Learn the secrets of directing your money to where you want it to go.
FRAMING BIASES, OVERCOMING HURDLES
March 16, 2021 | 6:30 PM
Our financial fears and personal biases can hold us back from making wise financial decisions. Learn how to overcome poor spending choices by using behavioral economics techniques.
MAKE YOUR SAVINGS GROW
March 23, 2021 | 6:30 PM
Do you feel alone in your struggle to save? Financial experts have emphasized the importance of saving for unexpected events and long-term financial goals. However, people at different income levels encounter challenges with saving. This webinar addresses this issue and provides practical ways to help you grow and maintain healthy saving behaviors.