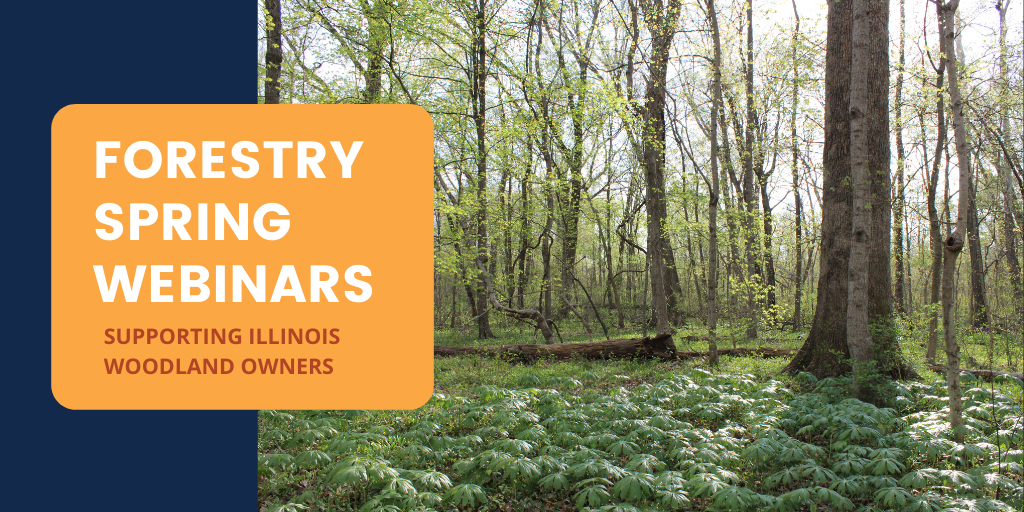 Identification and Management of Herbaceous Invasive Plants
Herbaceous invasive plants are a threat to forest health, productivity, and diversity. Learn how to identify common Illinois invasives, tools for controlling these invaders, and new species to keep an eye out for. 
Presenter: Chris Evans, Extension Forester, University of Illinois. Chris is an Extension Forestry and Research Specialist with the University of Illinois Department of Natural Resources and Environmental Sciences. He also serves as the interim state coordinator for the Illinois Master Naturalist Program. Chris has a Master's in Forest Biology from Iowa State University and has nearly two decades of experience working on invasive plants across the Eastern U.S.
Forestry Spring Webinar Series
Just in time for spring, the Illinois Extension Forestry team will lead a six-session webinar series for woodland owners on Wednesdays starting March 24.
Registration is required for these free webinars at go.illinois.edu/SpringForestry.
If you need a reasonable accommodation to participate in these programs, please contact Chris Evans at cwevans@illinois.edu. Early requests are strongly encouraged to allow sufficient time for meeting your access needs. 
More Series Sessions
March 24 | Crop Tree Management: Science and Application
Arguably the best forest stand management practice a woodland owner can undertake on their property is the release of crop trees. Explore crop tree management selection, potential, and maximizing return on investment
March 31 | Tree Planting Basics
Tree planting is a vital practice to restoring Illinois' forests. Get a simple guide for everything you need to know to have a successful planting operation. Explore plant materials and planting methods as well as how to apply these practices in a variety of field conditions. Presenter: Ryan Pankau, Horticulture Educator, University of Illinois Extension
April 7 | Get Lost: How to Navigate in the Backcountry
Have you considered navigating off-trail or wondered how to get back on track after getting lost, but didn't know where to start? Orient yourself with this session on basic map-and-compass navigation and the mapping app for smart devices, Avenza Maps™. Outdoor enthusiasts will gain skills allowing them to adventure safely and how to navigate a safe return. This is an interactive presentation. After registering, participants will be sent information to prepare in advance to get the most of the experience. Questions should be directed to the presenter at krohling@illinois.edu. Presenter: Kevin Rohling, Forestry Technician, University of Illinois
April 21 | Safe Use of Herbicide in Natural Settings
Herbicides are an indispensable tool for vegetation managers, but they must be used properly as off-target movement can be very damaging. Learn about common herbicide issues faced by Illinois landowners and applicators, what herbicide injury symptoms look like, and who to contact if herbicide injury is suspected. Leave with tips on herbicide application that prevents and avoids herbicide movement. Presenter: Michelle Wiesbrook, Extension Specialist, Pesticide Safety Education Program, University of Illinois
April 28 | Providing Suitable Woodland Habitat for Secretive Animals – Bats, Snakes, and Salamanders
Woodlands across Illinois are home to many secretive animals that creep, crawl, or fly such as salamanders, snakes, and bats. We tend to think these animals prefer dark and cold spaces, but this is not always the best habitat for them. Discover how you can provide habitat for these animals in your woods. Presenter: Joy O'Keefe, Assistant Professor and Wildlife Extension Specialist